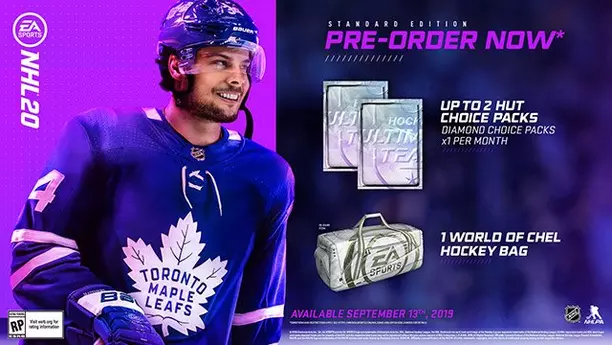 Auston Matthews, a 6'3 Center for the Toronto Maple Leafs graces this year's cover of NHL 20. Auston was the first overall draft pick in the 2016 NHL Draft. He was awarded the Calder Memorial Trophy as the NHL's Rookie of the Year during the 2016-2017 season. He is the face of the Maple Leafs franchise and at just 21 years old, he has a lot of hockey left in his future.
Much like the changes EA Sports made to Madden 20, there is a greater focus on the unique skillsets of individual superstars. Now when you play as your favorite superstar, you have a more authentic look and feel to the game. Powered by RPM (real player motion) Tech, the smallest details and quirks of the player is brought to the forefront. Selected players will have animations and shots that resemble their real-life counterparts: P. K. Subban, Alex Ovechkin, and Auston Matthews just to name a few. There is no doubt that this feature will only increase for future installments as the technology gets better and better. A lot of the changes made between NHL 19 and NHL 20 has to do with giving the player a better overall experience. RPM Tech is allowing EA Sports to truly focus on the player experience. The objective is to be as life-like and realistic as possible.
In order to provide fans that go watch the games with a better experience, teams have become more and more interactive with the fans. One of the easiest ways to this is the pre-game introductions and post-game celebrations. Two examples that come to mind are the pre-game shows by the Vegas Golden Knights and the post-game team celebrations by the Carolina Hurricanes. The Vegas Golden Knights love to put on scripted shows of a golden knight slaying the visiting team's mascot in order to pump up the crowd. Last season, the Carolina Hurricanes often celebrated their victories with team celebrations after the final horn had sounded (although some party poopers weren't too fond of it). EA Sports has included that feature in NHL 20. If you're playing as the Carolina Hurricanes in Play Now or Franchise mode, you can use some of these new team celebrations and you can even unlock and activate them for your EASHL team.
For fans of professional teams using outdoor venues (and not just pickup games by the neighborhood kids), NHL 20 is introducing 4 new outdoor venues. Dubbed The Farm, The Park, The Canal, and The Peak, these new venues are sure to provide players with feelings of nostalgia and slightly different environment than strictly playing in an indoor rink.
NHL 20 has updated its online play. Players can now choose between NHL ONES Eliminator and NHL THREES Eliminator. ONES Eliminator lets players match up with 2 other [random] players and compete in a fast-paced, single elimination tournament. Losers go back to round one and winners move on. If you can win four games in a row, you win the Eliminator Trophy and rare vanity items. THREES Eliminator is essentially the same as ONES except it's a 3 on 3 tournament. You can match with other [random] players or you can team up with friends to form your team of three advance through 3 rounds to win the Eliminator trophy and rare vanity items.
Although we are still over a month away from the start of the official NHL 2019-2020 season, NHL 20 is sure to satisfy fans of hockey of all ages. It is slated to be released Friday, September 13, 2019. NHL 20 is being released for the PlayStation 4 and Xbox One in three different editions.
If you pre-order the NHL 20 Standard Edition, you'll receive up to 2 HUT Diamond Choice Packs and 1 World of CHEL hockey bag. If you pre-order the NHL 20 Deluxe Edition, you'll receive up to 3 days early access (yes, you'll get to play earlier than everyone else), up to 5 HUT Diamond Choice Packs, a Hometown Choice Pack, and 2 World of CHEL hockey bags. If you pre-order the NHL 20 Ultimate Edition, you'll receive up to 3 days early access, up to 10 HUT Diamond Choice Packs, a Hometown Choice pack (choice of 1 hero item, increases +1 OVR each month until April 2020), 5 World of CHEL hockey bags, and access to exclusive HUT Competitive Season that starts September 13.




To pre-order your copy of NHL 20 and to learn even more about the game, click

[here]

.