Week 8 - We are half way through the season folks!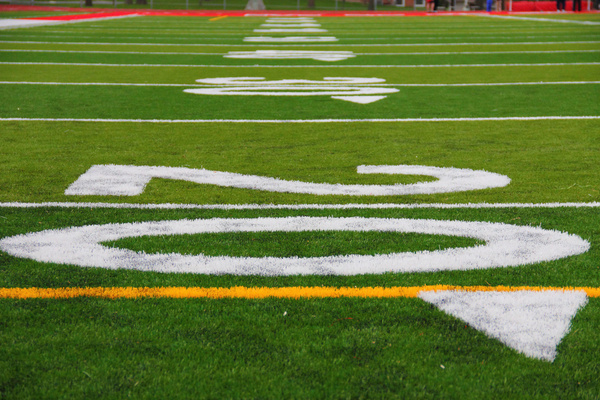 Here we are! As we enter week 8, we are reminded that we are technically half way through the NFL season. Yes, the season is 17 weeks, but each team only plays 16 games (they each get a bye week). So, yes, half way through the season.
Week 8 - 2 undefeated teams left in the NFL (New England Patriots and San Francisco 49ers), 2 winless teams (Cincinnati Bengals and Miami Dolphins), 14 teams with a winning record, 15 teams with a losing record, and 3 sitting at a .500 winning percentage (won as many as they've lost). I know I've said this multiple times before, but this year is weird. Teams that have been dominant the past few years are starting to show signs of wear and tear and teams that have been doormats are now starting to step it up. It's just something different from what I'm used to seeing. I think it's actually good for the game though because different fan bases get to have their time to shine or time to sulk, we get to see young stars emerge, and it's an overall changing of the guard.
I'm sure those numbers I listed above are going to change by season's end (and it's going to a fun second half of the season), but you know one thing that's not going to change? The Patriots will still be the favorite to take home yet another Lombardi Trophy! Who will meet them in the big game from the NFC? No one knows... the NFC is definitely showing more signs of life than their counterpart. Of the 16 teams in the NFC, 9 are at .500 or better (approx. 56% of the conference), whereas, of the 16 teams in the AFC, 7 of the 16 are .500 or better (approx. 44%). It may not look like a big difference, but in a world of statistics and percentages, it's huge!! We'll just have to wait and see what the second half brings.
*Don't forget that all times listed below are Central Standard Time and that only the broadcasting station is listed. Please check your local listings for times and channels for your game of choice.
Thursday, October 24, 2019
THURSDAY NIGHT FOOTBALL
Washington Redskins (1-7) at Minnesota Vikings (6-2)
Final Score: 9 - 19
Winner: Minnesota Vikings [no prediction provided]
Notes: There was only 1 touchdown scored all game (a rushing touchdown by Vikings RB Dalvin Cook). Redskins QB Case Keenum got knocked out of the game, paving the way for rookie QB Dwayne Haskins; yeah, he doesn't look like he's ready to be a full time starter in the NFL. Vikings QB Kirk Cousins was able to beat his former team and although Redskins RB Adrian Peterson did beat his former team, he did get one hell of an ovation.


Sunday, October 27, 2019
Seattle Seahawks at Atlanta Falcons; 12:00pm; FOX
Predicted Winner: Seattle Seahawks
Reason: Boy, was I wrong last week when I predicted the Seahawks would win at home agains the Ravens. This week, I'm predicted that the Seahawks will.... win.... on the road. In case you haven't noticed, Atlanta isn't very good right now (they haven't been all year). The Falcons traded away WR Mohammad Sanu (to the Patriots!; the rich just keep getting richer) and have plenty of other players that are drawing interest around the league. Seattle has to travel from coast to coast for this game, but still... the Falcons might still get some big numbers in yards, but the end result will still be an "L."


Philadelphia Eagles at Buffalo Bills; 12:00pm; FOX
Predicted Winner: Buffalo Bills
Reason: Buffalo is quietly having on the better seasons in the NFL. Did you know their record is 5-1? Think about that for a second... 5-1 entering week 8 and yet no one talks about them. If that's not an underdog, I don't know what is. Buffalo is winning with a dominant defense. I think that if the offense could catch up, more people would be talking about them as a legitimate title contender. Plus, everyone is still in love with Philly because of what they were able to do in previous years; it's as if not being very good and/or consistent this year means nothing because they won the Super Bowl a few years ago. Umm... hello!? It's called a championship hangover, some teams take it better than others, some teams immediately become irrelevant a year or two after they win.


Los Angeles Chargers at Chicago Bears; 12:00pm; FOX
Predicted Winner: Los Angeles Chargers?
Reason: This is a classic toss up for me. Bears QB Mitchell Trubisky didn't look very good last week after having some time due to injury. Maybe they should have stuck with Chase Daniel..... we may never know. But like I said after their loss last week, that defense is noticeably different now that Vic Fangio is no longer in charge. Head Coach Matt Nagy is an offensive coach; always has been, always will be. He needed Vic Fangio in charge of the defense. Again... we may never know what could have been if Fangio had stayed on board. The only reason I'm predicting the Chargers is because of QB Phillip Rivers and RB Melvin Gordon (still a better combination than Trubisky and Tarik Cohen on the opposite sideline). Yes, Gordon messed up and still trying to get back in the flow with the team after holding out this past offseason, but, he can still be a homerun hitter. The Chargers seem to be clicking better than the Bears are right now.


New York Giants at Detroit Lions; 12:00pm; FOX
Predicted Winner: Detroit Lions
Reason: The Lions have lost some close games; they just have to be able to close out games better (losses to Green Bay and Arizona come to mind). I think they're headed in the right direction though. The Giants are so up-and-down this year; one game, Daniel Jones looks like the next great QB and then the next, he looks like the rookie that he is. RB Saquan Barkley will keep the Giants in the game offensively, but I think the Lions will be able to close out this time.


Tampa Bay Buccaneers at Tennessee Titans; 12:00pm, FOX
Predicted Winner: Tampa Bay Buccaneers?
Reason: Again, another true toss up. I could see this going either way. One of the only reasons I picked the Bucs is because of the continuity at the QB position. Jameis Winston is not necessarily that much better than Ryan Tannehill/Marcus Mariota, but he's also been the starter for Head Coach Bruce Arians all year (Mariota got benched last week in favor of Tannehill). I don't know... it makes sense in my head. Side note: Tampa has a better road record than Tennessee has home record. So... there's that?


Denver Broncos at Indianapolis Colts; 12:00pm; CBS
Predicted Winner: Indianapolis Colts
Reason: Indy is one of those teams that probably shouldn't be winning as much as they are but yet they continue to win and prove people wrong. It's like, they beat teams they're supposed to lose to and then turn around and lose to teams they're supposed to beat. I'm telling you, it's been a weird season. And, if Denver played like they did last week against the Chiefs, QB Joe Flacco is not going to be a happy camper. The Colts offensive line is the complete opposite of the Broncos offensive line: competent. They'll be able to protect QB Jacoby Brissett and allow him the time he needs to make plays.


Cincinnati Bengals at Los Angeles Rams; 12:00pm; CBS
Predicted Winner: Los Angeles Rams
Reason: Can the student beat the teacher or will the teacher show why he is the teacher? Okay, that's enough of that... I don't need to go more into it (you can read my thoughts about Sean McVay and his disciples in my previous posts). Basically, Bengals have no team depth, aren't very good, and are winless; and they will stay that way for yet another week. Bleh!


Arizona Cardinals at New Orleans Saints; 12:00pm; CBS
Predicted Winner: New Orleans Saints
Reason: Although Cardinals Head Coach Kliff Kingsbury and QB Kyler Murray are starting to show that they can coach and play at the NFL level, they haven't met a defense like the Saints. The Saints will show these two newbies what it's really like to play in the NFL. And, Saints QB Drew Brees might be back this week. The Saints have been able to win with Teddy Bridgewater under center, but they are a completely different offense with Brees.


New York Jets at Jacksonville Jaguars; 12:00pm; CBS
Predicted Winner: Jacksonville Jaguars
Reason: The Jets are another team that have no team depth and just aren't very good. Yes, they beat the Cowboys... but it's the Cowboys. Ha! If Jets QB Sam Darnold plays like he did against the Patriots, Jacksonville will eat him up alive (much like the ghosts eat up Pac-Man during the game) Ha!


Carolina Panthers at San Francisco 49ers; 3.05pm; FOX
Predicted Winner: Carolina Panthers
Reason: Panthers RB Christian McCaffrey comes home! Technically, home is Colorado, but he starred at Stanford University which is just down the road from Levi's Stadium. He's going to be extra motivated to show how good he is. And the Panthers as a whole will be eager to show how good they are. Step 1 in showing your strength... beat the lone remaining undefeated team in the NFC. I love that Head Coach Ron Rivera is calling the defensive coverages again. Defense is what made him into the coach he is today and the defense in Carolina just hasn't been the same since they lost Defensive Coordinator Sean McDermott (current head coach in Buffalo) 3 years ago. Case in point, look at what McDermott has been able to do in Buffalo! The 49ers are good too; give credit where it's due, but the Panthers are coming off a bye week and are well rested after handing out a beating to the Buccaneers across the pond two weekends ago. This will definitely will a game that proves how good these two teams are/can be.


Cleveland Browns at New England Patriots; 3:25pm; CBS
Predicted Winner: New England Patriots
Reason: Bill Belichick is the ultimate competitor. Did you see how savage is was during the game last Monday night? And then to follow that up with his press conference, daring the NFL to change and/or close loopholes in their rulebook? Never change Bill, never change.


Oakland Raiders at Houston Texans; 3:25pm; CBS
Predicted Winner: Houston Texans
Reason: It feels like the Raiders are still trying to figure who they are or what they want to be. Do they want to be a great offense with an okay defense, or a great defense with an okay offense? Until they choose one, I'm going with the Texans. The Texans can be and have shown to be a great offense with a complimentary great defense.


Sunday Night Football
Green Bay Packers at Kansas City Chiefs; 7:20pm; NBC
Predicted Winner: Green Bay Packers
Reason: Chiefs QB Patrick Mahomes has been ruled out; advantage Green Bay. But even with Mahomes, I would still pick the Packers. The Chiefs defense is still a liability. They have some big name players [on paper], but the Packers have big name players [on the field]. I'm also going to predict that Packers QB Aaron Rodgers has another big day; maybe not a perfect rating like he did last week, but pretty darn close.


Monday, October 28, 2019
MONDAY NIGHT FOOTBALL
Miami Dolphins at Pittsburgh Steelers; 7:15pm; ESPN
Predicted Winner: Pittsburgh Steelers
Reason: Miami is one of two winless teams left in the NFL. If you thought the Bengals were an incomplete team, you should see the Dolphins. Ugh... I'm sure when the NFL made the schedule and were looking at their primetime lineup, this game looked like it would be good. I don't know what they were thinking though. We all knew Le'Veon Bell wasn't going to be playing in Pittsburgh this year, Antonio Brown was/is/will always be a diva, and okay... no one could have predicted Big Ben going down for the year... but still. We all knew Miami was tanking too... Miami versus Pittsburgh? Prime time slot? On ESPN? Ugh... again.......
So, those are my predictions. I feel good about my picks this week, but then again, I feel good about my picks every week. How will your predictions compare? And what your reasons for making your picks? Here's to a great weekend of football. Happy Halloween (for those of you that have Halloween events happening the weekend before Halloween day because it falls on a Thursday this year). Be safe, have fun, and enjoy the holiday week! Until next week......