Borderlands 3... Unleash the power of the Vaults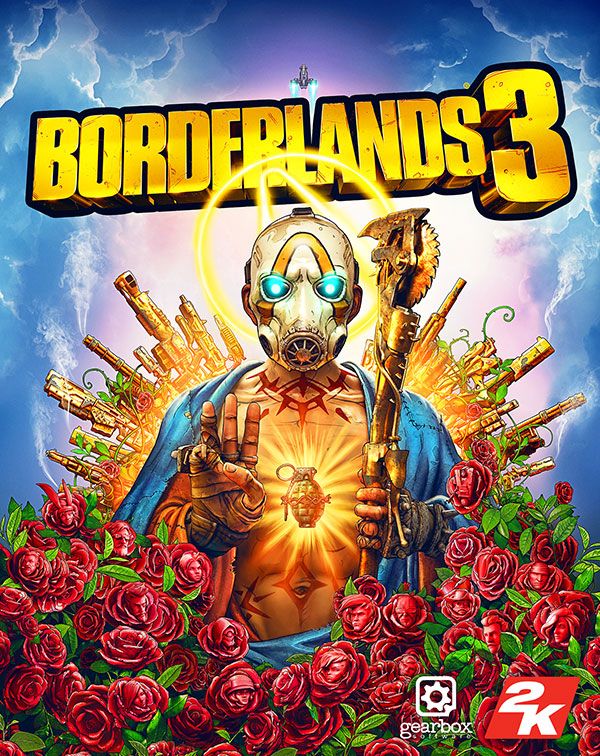 Imagine a barren wasteland where chaos reigns supreme, where creatures of the night now come out during the day, where water and food is scarce and costs a premium, and where people will fight, steal, hoard, and loot to stay alive. Now that you're done remembering your summer road trip with the squad, imagine all of that in a game. Borderlands 3 picks up right where it left off with Borderlands 2. But don't worry, even if you're new to the franchise, Borderlands 3 can be a standalone game [no prior experience needed].
Pandora is as wild as ever in this installment of the Borderlands franchise. With over 1 billion… that's right, 1 BILLION… guns and 3 new worlds to explore, Borderlands 3 is sure to please gamers of all ages. Play as one of four new Vault Hunters (FL4K, Amara, Moze and Zane) to stop The Calypso Twins from uniting the bandit clans and claiming what they feel is their birthright, the power of the Vaults.
FL4K is a Beastmaster class robot who has the ability to control four different monsters: a Jabber, a Rakk, a Skag and a Spiderant. Each monster comes with a different skillset making them advantageous in certain situations and disadvantageous in others. Each monster also has three skill trees (make sure you level and learn new skills appropriately).
Amara is a Siren class warrior who is also a true hero to the people. Always looking for a fight, she uses her Siren powers to summon ethereal fists to smash her enemies.
Moze, along with her mech, Iron Bear, is a downright badass. She is a Gunner that packs a powerful punch and some mean firepower. Instead of leveling up and unlocking new abilities, Moze will unlock new weapons for her mech. As Moze goes, so goes Iron Bear!
Zane. Born into Pandora's Flynt family. Born to be a hitman. Born to kick some serious bandit butt. He has the ability to summon a holograph of himself and he can summon drones to fight for him.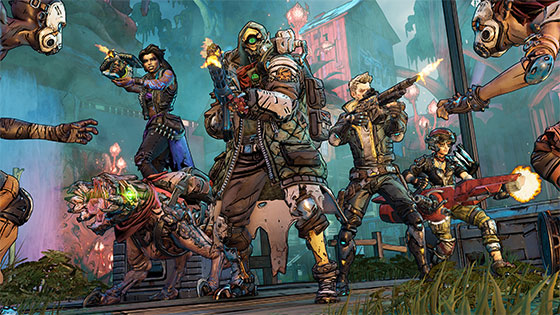 And then you have The Calypso Twins. What can we say about The Calypso Twins? Nothing much. They're just your average, every day bad guy. Except they're not. They are so much more. They're spoiled, entitled brats who feel the world should bow at their feet and that the power of the Vaults is theirs for the taking. If anyone or anything is considered a "bad guy," chances are they're on the side of the Twins. Your objective is to stop these two from wreaking more havoc and harnessing the power of the Vaults. As one man put it… the twins are "like the douchiest kind of live streamers of the future you can possibly imagine."
The game's Co-op mode allows you to play online with friends and family or as a two-player split-screen. According to the official Borderlands website, "QUICK & SEAMLESS CO-OP ACTION: Play with anyone at any time online or in split-screen co-op, regardless of your level or mission progress. Take down enemies and challenges as a team, but reap rewards that are yours alone – no one misses out on loot." No more quick and easy level up battles with higher ranked friends and no more battling with noobs for very little experience points. No more fighting amongst each other to see who gets the dropped loot. Anyone can play with anyone and they all get experience points, boosts, and loot according to their own respective level.
Through the official Borderlands 3 website (which you can visit by clicking [here]), you can become a Vault Insider. If you're a fan of the franchise, you should be a Vault Insider. By signing up, you earn points and rewards just for doing what all fans do: watch promotional videos, read articles, check social media posts, and the best part, earn points and rewards just for signing up! Points can be redeemed for Gold Keys, wallpapers, and numerous in-game and out-of-game rewards. If you sign up now, you can receive an exclusive Welcome Pack that features in-game items for Borderlands 3 (includes grenade and shield mods and a VIP weapon trinket). Even if you don't necessarily want the points and rewards, you can still sign up for their newsletter and receive the latest news, promotional messages, and other Borderlands info from 2K and its affiliates.
There are 4 different editions of Borderlands you can purchase. First is the Standard Edition. If you pre-order the Standard Edition now, you can receive a bonus Gold Weapon Skins Pack. If you pre-order the Deluxe Edition, you get the Gold Weapon Skins Pack plus a Retro Cosmetic Pack, Neon Cosmetic Pack, Gearbox Cosmetic Pack, Toy Box Weapon Pack, and XP and loot drop boost mods. Go up one more level and pre-order the Super Deluxe Edition. Not only do you get everything listed with the Deluxe Edition, but you also get 4 campaign DLC packs featuring new stories, missions, and challenges, a Butt Stallion weapon skin, a Butt Stallion weapon trinket, and a Butt Stallion grenade mod. Lastly, you can really 'treat yo'self' and pre-order the Diamond Loot Chest Collector's Edition. You get everything listed above, PLUS a Diamond Loot Chest replica, 10 Borderlands 3 character figurines, a Sanctuary 3 snap model, 4 Vault Key keychains, a cloth galaxy map, and 5 character art lithographs. If that doesn't qualify as a 'treat yo'self' moment, I don't know what else will.
Borderlands 3 is set to be released on September 13, 2019. That is less than a month away folks! Y'all better gear up and get prepared now for when the mayhem starts. It's available for PC (digital), PlayStation 4 (digital and physical), and Xbox One (digital and physical). Be aware though, the game is rated M (Mature 17+) for blood and gore, intense violence, sexual themes, and strong language. Aside from all of that, I'm sure it'll really get your blood flowing and your competitive juices going.




Check out our FREE PS4 Borderlands 3 contest:
Win A Copy of Borderlands 3 click below:


To pre-order your copy, sign up to be a Vault Insider, and to learn more about what else Borderlands 3 has to offer, you can visit their official website

[here]

.