NFL Week 4 - Thursday Night Football Preview and Prediction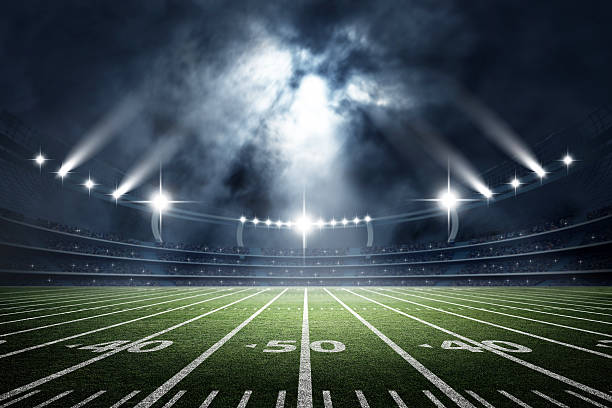 By the end of this weekend (or next Monday night, technically), we'll be exactly 1/4 of the way through the NFL season. Feels like only yesterday the season started. There has already been so much drama up through this point: players in key positions holding out for bigger contracts, players demanding to be traded to a different team, star players being injured, and star players [and even mediocre players] getting fat, bloated contracts. If only I had started to write this blog earlier in the season, we'd all be caught up on the weekly rumblings of the NFL; just know that a lot has happened already and we're only 3 weeks into the season. We have a looooong way to go folks! Sit back, relax, and let the season play out. It sure has the feel of a crazy one.
With this blog, I will do my best to bring you some of the biggest stories hitting the airwaves each week during the season. I know I won't be able to cover everything (because the sports networks already do a great job of that), I'm just here to hit the high points and the most "important" stories.
Now, full disclosure, I am a die hard Carolina Panthers fan.
*pause to allow the audience to react* :)
But most importantly, I'm a fan of the sport. There may be particular teams and/or players that I root for more than others, but overall, I just love NFL football. I also love college football! My weekends basically start Thursday night and doesn't end until Monday night. Who could resist 5 straight days of football!?
Each week, I'll make my predictions about each game. The easiest thing to do is pick a winner, straight up. I don't know all the rules of sports betting so I couldn't even begin to tell you how to do all of that (should you choose to put actual money on the games). I don't have a special formula or algorithm to predict a winner. I don't have insider information (that would probably be illegal if I did and chose to share it with you guys anyway). I don't have any intel that isn't already readily available to anyone who can access the internet. I get most of my information, just like everyone else, from the big dogs of sports coverage: ESPN, the NFL, NBC Sports, CBS Sports, and FOX Sports. I flip between all of the pregame shows. I watch the nightly highlights. Basically, what I'm saying is, I know just as much as you guys do (and that's not a whole lot to begin with).
Thursday, September 26, 2019
Philadelphia Eagles (1-2) at Green Bay Packers (3-0)
Stadium: Lambeau Field - Green Bay, WI
Kickoff: 7:20pm CT; NFL Network, FOX, Amazon Prime Video


Key Team Stats:
Offense (yards/game, rank out of 32 teams)
Philadelphia: 265.3 passing yards/game, 12th; 99.7 rushing yards/game, 17th; 365.0 total yards/game, 13th
Green Bay: 197.3 passing yards/game, 27th; 89.3 rushing yards/game, 24th; 286.7 total yards/game, 28th
Defense (yards/game allowed, rank)
Philadelphia: 293.7 passing yards/game, 29th; 57.0 rushing yards/game, 2nd; 350.7 total yards/game, 16th
Green Bay: 197.3 passing yards/game, 5th; 131 rushing yards/game, 25th; 328.3 total yards/game, 13th
Scoring (overall rank, points/game)
Philadelphia: [offense] 9th; 25.3 pts/game; [defense] 26.0 pts/game allowed, 23rd
Green Bay: [offense] 23rd; 19.3 pts/game; [defense] 11.7 pts/game allowed, 2nd


Predicted Winner: GREEN BAY PACKERS
Another full disclosure, I was born in Wisconsin, so the Packers will always have a spot in my heart. It wasn't until I moved to North Carolina that I truly began to understand football and keep up with it as a fan (hence, I am a Carolina Panthers fan!). I try not to be too biased while making my picks, but don't be surprised if I pick the Panthers to run the table and finish as Super Bowl champions. :)
Overall, I feel the Packers are playing at a higher level than the Eagles right now. I mean, have you seen how dominant the Packers defense has been 3 weeks into the season!? The defense was supposed to be the weaker unit. Aaron Rodgers is Aaron Rodgers and can carry the team by himself, but it's about time the defense step it up and help him out. The Eagles look like they're still trying to figure things out. They have had so many injuries to skill position players (especially the receiver position) that Carson Wentz can't seem to get into rhythm (they've been looking super sloppy lately, receivers can't get open and they're dropping passes when they do).
You can look at those stats and make of it what you want. We are only three weeks into the season. It's early and these numbers and rankings will change even my midseason. The stats above can be a bit misleading. To me, large amounts of offensive yards doesn't always mean they're good offensively, it might just mean that they suck for most of the game, fall behind, and now have to play catch up. Once they start doing that, they get chunk yards and just pad their numbers. Go compare their stats and rankings with their overall record, you'll start to see what I'm talking about. Some people study team statistics day in and day out and swear these are the only indicators of whether a team is going to win or not. Team statistics do help in determining which team is doing better and which team has a better chance of winning, but there is so much more that goes into predicting winners than overall stats. Most times, you have to take into account the weather (is it raining? snowing? wind gusts? super humid?), where they're playing (home-field advantage is a real thing and can truly affect the outcome of any given game), which key players may be out with injury, and how long it's been in between games (Thursday night games aren't always the most entertaining because of the quick turnaround from having to play on Sunday and then Thursday in the same week). The point is, there are so many factors that go into predicting outcomes, it's almost impossible. But I do what I can. Some picks are based on what I've seen throughout the season, some are based on which individual players I like more, some are just picking which team I dislike the least, hell, some of my picks may just be based on what color jersey I like better (believe me, that's a thing for some people, especially during college basketball's March Madness). Either way, I don't have any money on these games. I'm not in any fantasy leagues this year. There is no prize for me at the end of the season for getting the most game winners correct. I just love the game and like knowing that I can predict the outcomes of the games (hopefully accurately).