VPP's Choice: NFL Game of the Week

So, we are going to try something new for the remainder of the NFL season. Instead of predicting every game each week, we're going to pick one "game of the week" and focus on that matchup. With contenders starting to separate themselves from the rest of the pack, some games will inevitably hold more weight than others. I mean, we still have one more matchup between the Miami Dolphins and New York Jets [in Week 14]. I don't think your casual football fan is going to pay much attention to that matchup as they would the San Francisco-New Orleans or Kansas City-New England matchups that same weekend. SF-NO and KC-NE have playoff seeding implications; MIA-NYJ is just another game and probably to see who'll end up with next year's number one pick.
This week's "Game of the Week" is the Carolina Panthers versus the Green Bay Packers!
The Carolina Panthers travel north to the Frozen Tundra to face the Green Bay Packers. And if you've been keeping up with the national weather lately, you'll notice that Lambeau Field is currently covered in snow.
Photo taken morning of 11/6/2019 and is courtesy of Jennifer Fisher of Packers.com.
Now here are two teams right in the thick of the playoff race as both teams still have a very good chance of making the playoffs. The Panthers sit at 5-3 and in second place in the NFC South. The Packers sit at 7-2 and in first place in the NFC North.
CAROLINA PANTHERS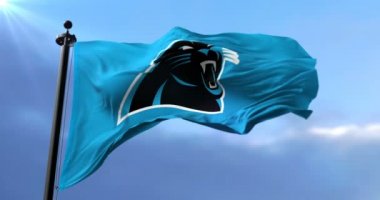 The Panthers are coming off a much needed win over the Tennessee Titans last weekend. After being embarrassed by the undefeated San Francisco 49ers in San Francisco the previous week, the Panthers had to come away with a win to quiet the critics for at least another week. Prior to the loss to the Niners, critics were saying things like, the Panthers had played a soft schedule and that they hadn't really played anyone that was any good or that other teams were finding ways to lose rather than Carolina finding ways to win. After watching the heart-wrenching loss to the Niners, a lot of people were starting to agree that Carolina was 4-2 because of a soft schedule; I mean, look what a legitimate playoff team did to that dominant Carolina defense (SF put up 51 points!). Quarterback Kyle Allen was picked off 3 times in that game, after not having thrown an interception in his previous 5 NFL starts. For the first time this season, he looked like an undrafted, first-time starter filling in for the injured franchise quarterback. The 6th time was definitely not the charm for Allen. Based on Kyle Allen's red-hot first 5 NFL starts, people were starting to stir the pot on whether injured Cam Newton would ever regain the starting QB job when he was healthy. His start in San Francisco quieted those critics a bit too. Side note: is it a coincidence that Carolina got dominated and embarrassed in the same stadium where they lost the Super Bowl a few years back (even though it was a different team they faced in the Super Bowl)!? Spooky!
But again, after that start, Kyle Allen may or may not be the future of the Carolina Panthers. No one is doubting that he is doing enough to win games. No one is doubting that he is an NFL starting caliber quarterback. Although his college career didn't go as well as he would have liked, he was a 5-star recruit coming out of high school and was the number 1 rated quarterback of his class. His path to the NFL isn't as clean and crisp as other quarterbacks, but he worked his tail off to get to where he is. One of the doubts people have is whether Kyle Allen is good enough to take this offense and this team to the next level. When Carolina drafted Cam Newton first overall in 2011, he was expected to take this team to the next level and he did just that. Cam took the Panthers to Super Bowl 50 after the 2015-16 season. He also collected a league MVP award that season. Cam was electric during his early years. Strong armed, strong legged, big bodied, flashy, fast as lightning (for his size and position), confident, and arrogant among all other words used to describe transcendent quarterbacks. The past few seasons have ended with Cam on the injured list and/or shut down early. Although he's still relatively young for a quarterback, perhaps his style of play early on in his career has finally caught up to him. In comes a much younger, "healthier" quarterback (and need I mention, exponentially less expensive). Will Kyle Allen's NFL career take off like Cam Newton's NFL career? Time will tell.
One thing we can all agree on, Running Back Christian McCaffrey is the current and future face of the franchise. Cam Newton was just placed on Injured Reserve earlier this week; his regular season is pretty much over. Cam had been the face of franchise since 2011, but now it's time to pass the torch. Run CMC is currently second in the NFL with 881 rushing yards (but keep in mind he's also played one less game than league leader Dalvin Cook of the Minnesota Vikings). He came 133 receiving yards short a season ago of becoming just the 3rd player in NFL history to record a season of 1000 rushing and receiving yards. At his current pace, McCaffrey would finish this season with 1762 rushing yards and 726 receiving yards; not quite the 1000/1000 club but he would come very close to setting the record for yards from scrimmage in a single season (current record is 2509 yards, set by RB Chris Johnson in 2009). McCaffrey is the ultimate dual threat running back.
GREEN BAY PACKERS
Who is the first active player that comes to mind when you think the Green Bay Packers? If you didn't answer Long Snapper Hunter Bradley, then I don't think you're a big enough Packers fan... just kidding. The majority of people would probably answer with Quarterback Aaron Rodgers. I mean, he's the one with the t.v. commercials, he's the one that's always on t.v. doing interviews, and he is the only one that is covered by the general media the most. He is a national media darling for good reason though. Not only is Rodgers good behind a camera, he is pretty darn good on the football field too. Rodgers was drafted as the heir apparent to the legendary Brett Favre and boy did he deliver as he took the Packers to Super Bowl 45 after the 2010-2011 season. He's also claimed 2 league MVP awards. He wasn't drafted first overall like Cam was in Carolina (although the 49ers might have made a mistake drafting Alex Smith instead of Aaron Rodgers first overall in 2005) but the Packers have not regretted drafting him.
Could this be the year that the Packers make some noise in the playoffs again? In case you missed it, the defense is pretty darn good this year. They flew out of the gates red-hot to start the season, but have since cooled down ever so slightly. With a new General Manager in place, the Packers have been active with trades and free agents signings (if you'll recall, former GM Ted Thompson rarely signed any free agents and/or made any trades). Bringing in Za'Darius Smith and Preston Smith to bolster a non-existent pass rush was the right move; Za'Darius leads the team with 8.5 sacks and Preston is second with 8. To show just how good the signings were, Kenny Clark is third on the team with only 1.5 sacks. If you take away the Smiths' 16.5 sacks, the Packers would only have 5.5 sacks total. Talk about getting your money's worth through free agency.
PREDICTION
This is such a good matchup, the NFL flexed the game from a 12:00pm (CST) kickoff to a 3:25pm kickoff; essentially making it a nationally televised game. The other games in the afternoon time slot were Miami at Indianapolis and Los Angeles Rams at Pittsburgh Steelers. Taking a look at the overall schedule for the week, I can see why the NFL would want to flex this game into the later time slot and feature it on t.v.
Season Team Stats
The stats don't always tell the entire story. And you make an outcome prediction solely based on team averages, you might be in for a rude awakening. There are so many factors in play when it comes to game outcomes. Stats and averages are good indicators of how well or poorly a team has been performing throughout the year. But that's just it too, each game is so different that averages may be skewed. For example, Green Bay's defense is allowing about 400 total yards per game. Imagine if Green Bay had only played 2 games... the 400 yards per game could have about because they allowed 200 total yards in game 1 and then allowed 600 total yards in game 2; they win game 1 but lose game 2. However, statistics show that they average allowing 400 yards per game. Two totally different games, two different outcomes, but averages don't look so bad until you break it down.
NFL.com has the Green Bay Packers winning. As of this writing, ESPN's Football Power Index gives Green Bay a 75.9% chance of winning. Fox Sports gives the Green Bay Packers a 63.8% chance of winning. CBS Sports like the Packers to win. Conventional wisdom would say follow what the experts are saying and pick the Packers.
Well, good thing I'm a Carolina Panthers fan more than I am a Green Bay Packers fan (for those of you that have been keeping up with my columns this season, I'm from Wisconsin, but spent most of young adult-to-adult years in North Carolina). Yes, it's almost impossible to beat Green Bay at home, in the freezing weather, in the snow. But Green Bay has also shown that it's run defense has been porous as of late. And guess what the Carolina Panthers have that the Packers don't have: that's right.... an MVP caliber Running Back in Christian McCaffrey. I'm hoping the Packers get sloppy on defense this weekend and RUN CMC shows why he is the most complete running back in the league.
CAROLINA PANTHERS RUN AWAY FROM THE PACKERS FOR THE WIN, BABY!!!