Death Stranding - The future is now
There have been a ton of games in the last few years that take place in a post-apocalyptic world, but this one looks and feels different. Whether you're fighting off radioactive aliens or zombies or cannibalistic bandits, there always seems to be one main objective: you have the power in your hands to not only save the world, but to save what's left of the human race; it is your mission to fight and survive.
All of the research I've done about this game starts with the same name: Hideo Kojima. Kojima is credited with the design and creation of the Metal Gear Solid series that was first released in 1998. For those of you who are fans of Metal Gear Solid, you'll know that MGS is a product of Konami. Then you'll notice that Death Stranding is a product of Sony Interactive Entertainment. Hmm...... very interesting [if you pay attention to details like that]... Death Stranding is the first release from Hideo Kojima and his studio, Kojima Productions, since his split from Konami.
Using motion capture technology, the game's main character, Sam Porter Bridges, has a very close resemblance to actor Norman Reedus (who is most widely known as zombie slayer Daryl Dixon in AMC's The Walking Dead TV series). Other actors lending their likeness and voices to this project include Mads Mikkelsen, Lea Seydoux, Margaret Qually, Troy Baker, Tommie Earl Jenkins, and Lindsay Wagner. But it doesn't stop there; you'll also get special guest appearances from Guillermo Del Toro himself and Nicolas Winding Refn. There is no shortage of star power for this game.
'Death Stranding' is set in a post-apocalyptic world where an event known as the "Death Stranding" caused a cataclysmic collapse of human civilization and an invisible creature known as 'Beach Things' or 'BTs' to begin roaming Earth. Your mission: Fight and survive, transport cargo across this barren wasteland from surviving colony to surviving colony, save humanity from these foul creatures, and rebuild what was once a thriving civilization. 'Beach Things' are invisible creatures that sprung up from the Beach, a land with links to the afterlife, after a Death Stranding event. How do you fight something that is invisible? Well, the main character, Sam, carries around a baby in a small liquid tank that alerts him when there are BTs near. Of course that's how you fight invisible monsters... how else would you do it? The baby is known as a "BB" or Bridge Baby and when a person makes a personal, mental connection with the BB, they can gain the ability to sense when BTs are near.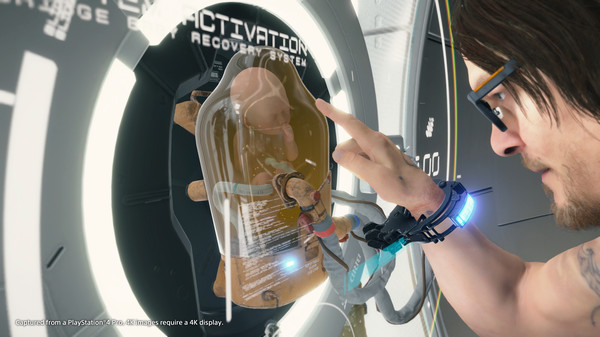 The main plot of the game involves main character, Sam, delivering goods and packages from one colony to another. As you complete your missions in-game, you earn "Likes" from other gamers. The more Likes you get, the wealthier you are [as 'Likes' are basically treated as currency]. Also as you are partaking in delivering packages, you'll have to convince survivors to join in to the Chrial Network. Expanding the Network is essential in your ability to access area maps. The Chiral Network is also the 'online' portion of the game. The Network allows players to leave each other messages, use equipment left by others, leave your own equipment for others, and collaborate with one another to build infrastructure [including roads, bridges, and shelters] along the roads from colony to colony.
Death Stranding was first teased with a trailer at E3 2016. After a long wait, Death Stranding was finally released exclusively on the PlayStation 4 on November 8, 2019. Death Stranding has received mixed reviews from fans and critics alike. For example, critics at Metacritic.com scored the game an average of 83/100 whereas fans scored the game an average of 5.8/10. It scored a 6.8/10 on IGN.com with the overview saying, "Okay: Death Stranding delivers a fascinating world of supernatural sci-fi, but its gameplay struggles to support its weight." In Japan, Death Stranding scored a perfect score from famed gaming publication Famitsu [although there is currently some controversy surrounding this score]. Senior Editor Matthew Kato of GameInformer.com scored the game a 7/10. It also scored a 9/10 from Gamespot.com. However the numbers add up, I'd say that Death Stranding has received an overall favorable review. Fans of Hideo Kojima's work will surely enjoy his latest vision and creation.




Although Death Stranding is currently available only on PlayStation 4, it is available for pre-purchase now for PC (available for play Summer 2020). Head over to the Steam Store by clicking

[here]

to pre-purchase Death Stranding.